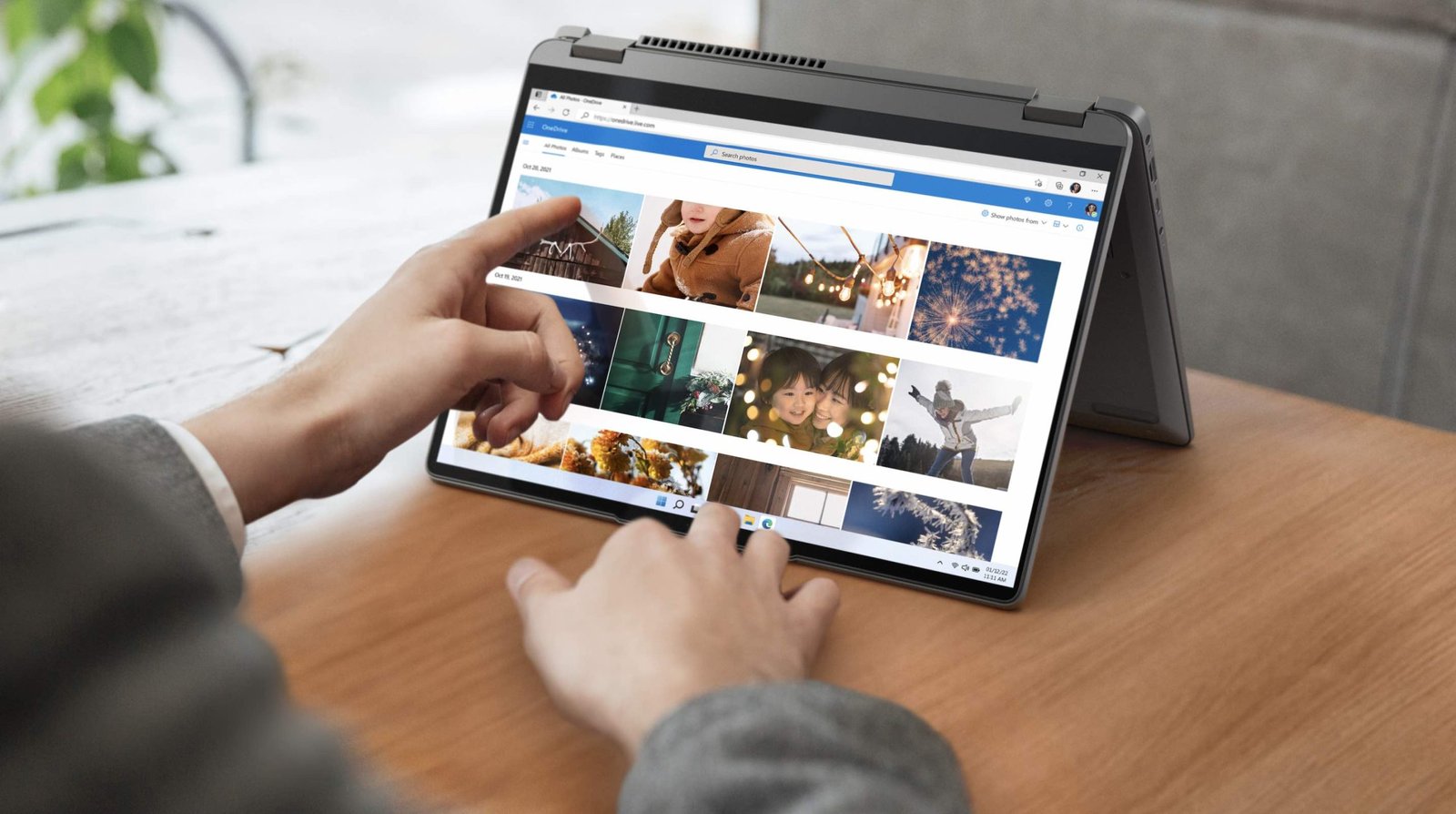 The flexibility encoded in the name Lenovo IdeaPad Flex 5 translates into remarkable performance for anyone who wants the benefits of a laptop and a tablet in one device. A 360° tilting touchscreen, excellent battery life and a wide range of connectivity options are some of the features that will appeal to those looking for a reliable PC for everyday work tasks and leisure entertainment at a bite-size price.
The ultra-slim IdeaPad Flex 5, weighing just 1.5kg, fits easily into any backpack or handbag, so it's a no-brainer for those who like to use their laptop outside the home. On the other hand, the surface is so smooth and scratch-resistant that leaving the IdeaPad Flex 5 alone at home would be a sin.
The 14-inch diagonal glossy display is perfectly adequate for tasks that don't require huge graphics power, while the Full HD resolution allows you to enjoy high-quality images. The 360° flip screen makes it easy to turn your laptop into a tablet, with the smart pen helping you to make the most of your creative bursts.
And it's not just the touchscreen that makes using this computer a pleasant experience. The IdeaPad Flex 5 keyboard also deserves praise for its thoughtful design solutions. In a relatively small space, all the keys are positioned at an ergonomic distance, while the surface of the keys is extremely soft and responds lightning-fast to every press. What's more, the keyboard's several different lighting modes are a real treat for those who like to "surf" while still saving their eyesight.
Another advantage of this computer is that a wide range of connectors allows you to extend the range of functions of the device considerably. In addition to the currently popular USB-C, you'll find two USB 3.2 ports, a 4-in-1 card reader and HDMI port. It's the perfect solution for those who like to view their photos on the projector's large screen, or for those who like to store extra information on different storage devices. It's no secret that such a wide range of connectivity is a true gift in the mid-range notebook market.
While you're enjoying all the benefits of the IdeaPad Flex 5, you won't have to worry about the battery draining too quickly. As usual, Lenovo delights in this aspect once again – a fully charged battery lasts for up to 12 hours, and the Rapid Charge Boost feature allows you to recharge your device in just 15 minutes for several more hours of use.
Finally, the IdeaPad Flex5 is ready to satisfy those who appreciate additional security features on their hardware. A fingerprint scanner next to the keyboard allows the computer to be used only by its owner, while a sliding camera cover provides a greater sense of privacy.
The IdeaPad Flex 5 flexible Lenovo laptop-tablet is available from official Lenovo partners. Click HERE for more flexible offers.